The Botany @ Dairy Farm | D24 | 99yrs
The Botany @ Dairy Farm Condo is located at the North-west part of Singapore. URA has launched this 99-year leasehold site of 168,567 sq ft for tender on 21 October 2021. Sim Lian Group has won top bid with a land rate of S$980 psf. This site will be developed into 5 blocks of 9 to 15-storey private residence with 386 units of 1-bedroom to 5-bedroom. Thus, condo units on this site could launch at an estimated price of $1,800 - $1,900 psf.
This private condo new launch at Dairy Farm Walk is very close to Dairy Farm Nature Park. Hence, for high floor units facing north at the high-rise zone, residents will get the view of the Chestnut Avenue GCB area. While the high floor units with south facing will look out to the surrounding greenery.
---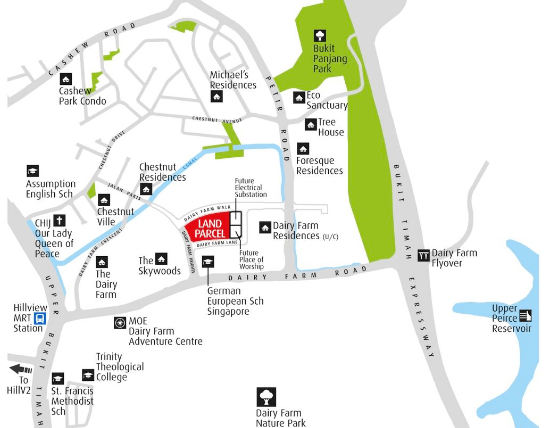 ---
---
The Botany @ Dairy Farm site is just a 8-minutes walk to Hillview MRT Station. And in close proximity to nature reserve, it is convenient yet a quiet enclave. The German European School Singapore Campus is right next door.
Since the latest update from MOE on Phase 2C vacancy, and recent news on buying property near popular schools, more home buyers are buying their homes in such locations. This has been the trend in recent years because it is very important for parents to cut down travelling time when they send their children to school. Therefore, buying a property near a location with good schools is an ideal choice.
For those who drive, BKE is just a short drive away.
From amenities to dining options, a short drive will take residents to Dairy Farm Retail, Rail Mall, HillV2, Hillion Mall and Bukit Panjang Plaza. There are wide variety of dining options to pamper your taste buds. And residents do not need to travel far for necessities. This is indeed a quiet yet convenient location for your home.
Nearby Nature Parks are popular hot spots for those seeking healthy living. Many come from far end of Singapore to enjoy the tranquil trail walk at the newly opened Rifle Range Nature Park and famous Bukit Timah Nature Park. But your home is just minutes' away.
It is a home next to lush greenery.
For other new and upcoming property launches, please click HERE! Or visit our showcase of Singapore Property New Launches where you can browse new launches by Region for your house-hunting.
Why The Botany @ Dairy Farm?
For those who likes nature, do not miss this new launch. Dairy Farm Nature Park is very close by. Get a unit on the high-rise block with south-facing to enjoy unblocked greenery view. Wake up to a much needed fresh air to give you a refreshing start every morning. With the German European School next door, you will be sure to have ready tenants if you are looking at buying an investment property. In conclusion, this is one of the great investment outside central region.
Strong take-up in the past year has seen nearby new developments such as Dairy Farm Residences and The Midwood selling out. With strong USPs and pent-up demand from 2022 as mentioned, the expected strong take-up at The Botany at Dairy Farm means that future residential sites released nearby will likely cost more.
The Botany Dairy Farm Site Plan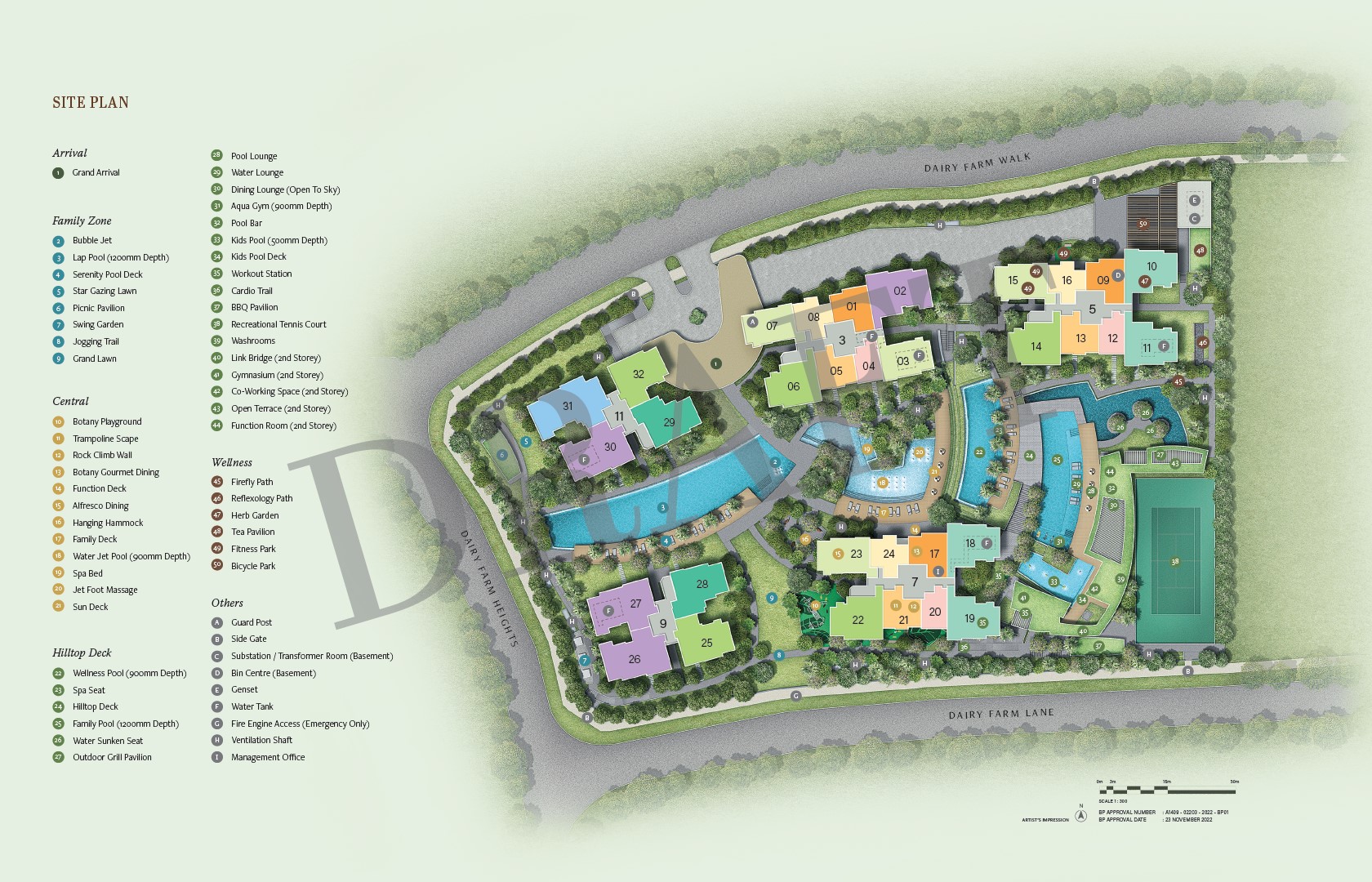 The Botany @ Dairy Farm Quick Facts
Here are some project information of Dairy Farm Walk Condo for your reference. More information will be updated when they are available.
DEVELOPERS: Sim Lian JV (Dairy Farm) Pte Ltd
DEVELOPMENT: 5 blocks of 9/13/14/15-storey condominium development with basement carpark, communal facilities and swimming pool
DISTRICT: 23
TENURE: 99-year leasehold
ADDRESS: Dairy Farm Walk
SITE AREA: Approximately 168,597 sq ft
TOTAL UNITS: 386 units of 1-bedroom to 5-bedroom
CARPARK LOTS: 386 Basement carpark lots including 4 lots equipped with electric vehicle (EV) charging points; and
5 Handicapped parking lots
EXPECTED TOP: 31 December 2027
The Botany @ Dairy Farm Floor Plans